Introducing the ALI25 and PhoenixKonnect
The next-generation system for Pyroshock Data Acquisition

MECALC Technologies and Computer Methods are excited to announce that our new system for Pyroshock data acquisition will be released and ready for shipment this Summer.
This system combines the ALI25, the latest addition to the QuantusSeries family, with PhoenixKonnect, a state-of-the-art touch-compliant software application designed for today's stringent data acquisition and traceability requirements.
ALI25
The industry's first 5 MSa/s, 24-bit acquisition module with a flat bandwidth response greater than 2 MHz. Built-in Signal Conditioning for bridge-type transducers.
PhoenixKonnect
An intuitive solution for control, channel/signal validation, capture, analysis, and archiving of data. Supports simultaneous transient and streaming data capture using a combination of QuantusSeries and SD-VXI hardware. PhoenixKonnect postprocessing incorporates your custom scripts in Python, Matlab, or Kornucopia.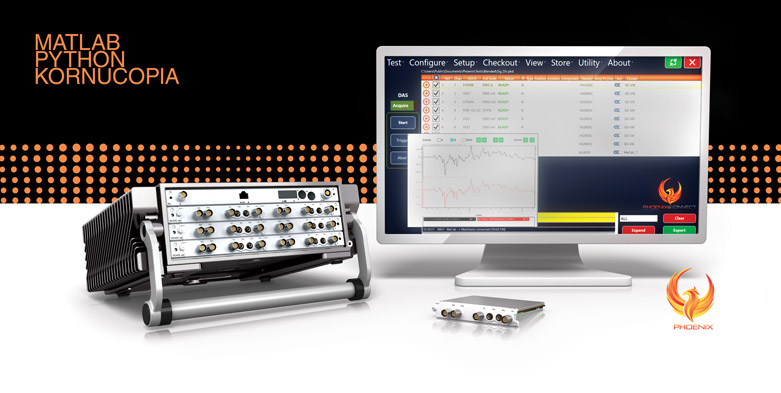 The ALI25 is a high-bandwidth Module designed for triggered/burst acquisition for Pyro-Shock / Mechanical Shock applications. It also supports continuous sampling modes for high-speed recording. Each channel includes bridge signal conditioning, a 24-bit 5 M sample/s ADC, and a 21 M sample data buffer. Systems can be configured with 2 to over 1000 channels.
Built-in Signal Conditioning supports bridge-type transducers, ICP sensors, and voltage signals. Constant voltage or current excitation is programmable for each channel. Each input channel has a buffered low noise output channel for monitoring or acquisition sensor data via a secondary system. Measurement Integrity and Sensor Status prior to an event is verified with continuous: pre-trigger monitoring, summarized signal information, and sensor fault detection.
Measurements are triggerable by signal level and persistence, external events, data flow, or software command. This advanced set of triggering options supports multi-system synchronization and ensures event detection.